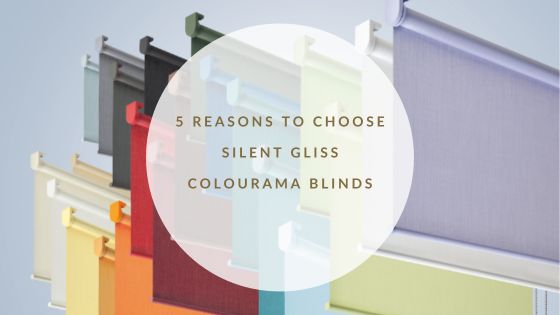 When it comes to selecting the right window blinds, it's not just about covering your windows; it's about enhancing your living space. Silent Gliss Colourama Roller Blinds, designed for both residential and contract installations, offer a perfect fusion of style, versatility, and practicality. In this blog post, we'll delve into five compelling reasons why these blinds deserve your attention.
1. A Diverse Palette of Colours and Fabrics
Silent Gliss Colourama Roller Blinds take the term 'customisation' to a whole new level. With an array of colours and fabrics to choose from, these blinds effortlessly adapt to your interior design. Whether your style leans towards calming neutrals or vibrant, attention-grabbing shades, you're sure to find the perfect match. Explore the sheer elegance of Colourama 1 or the semi-transparency of Colourama 2, tailored to your preferences.
2. Aesthetic Excellence
In the world of window treatments, aesthetics matter, and Silent Gliss understands this well. Every detail counts, and that's why they ensure that all plastic blind components match the chosen Colourama colour. This meticulous attention to design results in a polished, stylish appearance that seamlessly integrates with your decor. Alternatively, opt for white, black, or silver components for a harmonious blend with your interior.
3. Versatile Installation Options
One size doesn't fit all when it comes to window blinds. Silent Gliss Colourama Roller Blinds offer versatility in installation options. Whether you want them mounted on the wall, ceiling, or recess-fitted, these blinds accommodate various window sizes and configurations. The easy-to-install click-in brackets make setting up a hassle-free experience.
4. Silent and Smooth Operation
Imagine adjusting your blinds with the utmost ease and silence. Silent Gliss has designed these roller blinds with a stainless steel metal bead chain for precisely that purpose. You can bid farewell to noisy blinds and enjoy a serene and peaceful environment.
5. Quality and Durability Assured
When you invest in window blinds, you want them to last. Silent Gliss stands behind the quality and durability of their products. The Colourama Roller Blind system is meticulously crafted using high-quality materials, and UV-resistant moulded parts prevent colour fading. These blinds are also rust-free, ensuring they remain in pristine condition over time.
To offer you peace of mind, Silent Gliss provides a five-year manufacturer's guarantee on the 4905 roller blind system. This guarantee underscores their commitment to delivering products that stand the test of time.
Silent Gliss Colourama Roller Blinds embody the perfect marriage of style, customisation, and endurance. With a spectrum of colours, fabric choices, versatile installation possibilities, smooth operation, and a quality guarantee, these blinds are an excellent choice for elevating the atmosphere of your living space while providing practical utility.
So, why not consider enhancing your windows with Silent Gliss Colourama Roller Blinds? The team here at The Curtain Pole and Track Company are always on hand to offer help and advice. Explore the complete range and transform your interiors with blinds that effortlessly combine aesthetics and functionality click here.