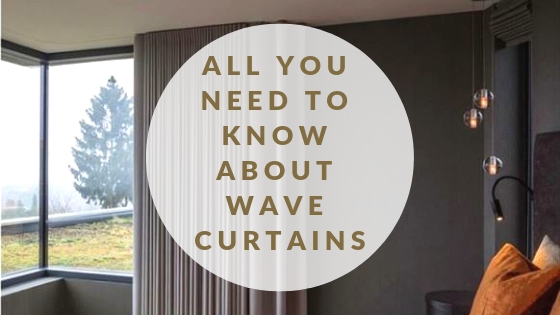 Wave curtains are a popular new style that looks good in any setting. If you've ever wondered about introducing these stylish and minimalist curtains into your home, we're here to help: read on for all you need to know about wave curtains.
What is a wave curtain?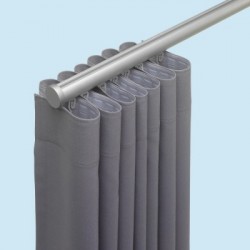 The wave curtain system is a trademarked design from Silent Gliss. Wave curtains use a modern alternative to a curtain heading, guiding the curtains along special wave curtain tracks to create a uniform, ripple effect. When pulled back, wave curtains avoid the bunched look that you get with regular curtain poles or tracks.
How do wave curtains work?
The wave curtain look is achieved using a specially designed wave curtain header that gathers the curtain material into even folds.
Will wave curtains look good in my home?
The sleek and minimalist effect achieved by wave curtains makes them especially suitable for modern interiors, but wave curtains also look good alongside more traditional décor. Wave curtain tracks help maximise the amount of light coming into the room, making them ideal for any space where daylight is at a premium.
Can wave curtains be made in any fabric?
Unlike regular curtains, some fabrics are not suitable for hanging as wave top curtains. That's because the fabric you use needs to be able to drape well, following the ins and outs of the tracks in order to fall in the right wave pattern.
In general, heavy or stiff fabrics are unlikely to be suitable, as are any that feature an irregular stripe pattern that goes against the waves formed by the tracks. Cotton, voile and some silks may all be suitable. To test your fabric, try holding it in your hands in a wave pattern and see if it holds the pattern as it falls.
Due to the even and uniform way that they fall, wave curtains are an excellent way to show off repeating patterns to their best effect.
How much fabric is needed?
With wave curtains, there's little room for flexibility in terms of the amount of fabric you use, so it's important to get it right. As a general rule, you're likely to need between 2 and 2.5 times the area of your window, but be guided by the curtain track specifications.
Which is the most popular wave curtain?
Wave curtains are available with 80mm or 60mm spaces between each glider. 80mm is the most popular size, creating a larger wave effect in the fabric.
Which track is better for a wave curtains?
If you're thinking about which wave curtain track is best for you, the good news is that there is no 'better' – only personal preference. If you are using wave headed curtains as a room divider, the Silent Gliss 3840 is a good choice because it is the same both sides, and the top fix bracket is hidden by the track.
Can you help me with a specific enquiry about Wave curtains?
Our experts will be delighted to answer your questions to help you make the best choices for your home. Fill in our Wave Curtain enquiry form today.