Wave Curtains and Fabric Made by Silent Gliss
Wave is an innovative curtain heading system created by Silent Gliss. Wave style curtains are an ideal way to update your room from a traditional curtain system, to create a striking visual statement. What better way is there to ensure that your curtains hang beautifully than to use a recommended Silent Gliss fabric and have them made by Silent Gliss?
If you would like to order or enquire about Wave curtains, please use the Enquiry Form at the bottom of the page.
Wave curtains are minimalist in appearance and have been designed to create a flowing wave effect. The look is achieved through the combination of a unique heading tape and a Wave glider-cord, to ensure the fabric hangs in a soft and even pattern. The fabric and the way the curtains are made have a significant impact on the way the curtains look and dress. Silent Gliss have tested all their fabric ranges and have selected and categorised them, only recommending the fabric styles and types that they know can be made beautifully and hang perfectly using the Wave system.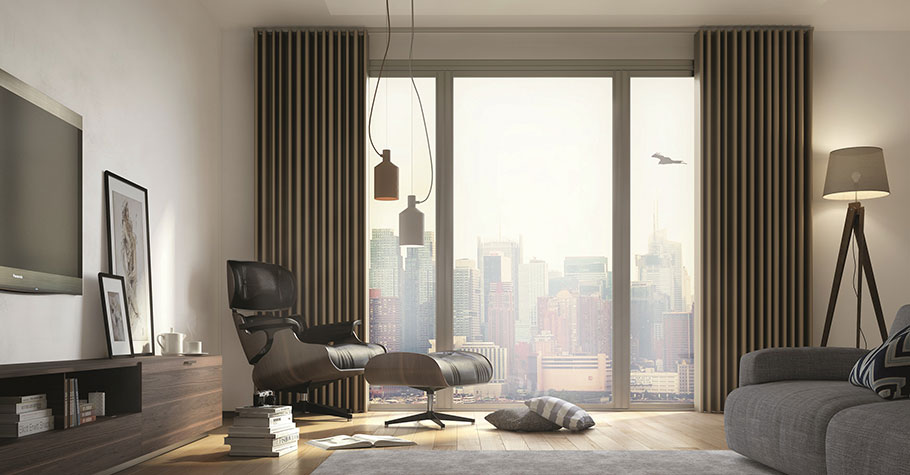 To achieve the desired result, Wave curtains should be installed with a Silent Gliss Wave track. Wave curtains are compatible with the 3840, 5100, 5600, 6130, 6120, 6100, 6140, 6160, 6150 and 6243 products, in conjunction with the 60mm or 80mm pitch Wave glider.
Why Choose Wave Curtains?
If you're looking for a unique curtain design to update your room, Wave curtains are a great option. Here are some of the benefits of Wave curtains:
Suit any home décor scheme
Maintain a structured form throughout drop
Minimalist in appearance
Reduced curtain stack depth
Can be installed with pelmets
Can be made in continuous fabric width when using the Silent Gliss fabrics, meaning that there would be no seams in your curtain
Selecting Your Wave Curtains
We create made to measure Wave curtains to suit any home, whether your room has a traditional or modern design.
Colour and Fabric Selector
Our Wave curtains can be made in a range of colours, so you can match your curtains to the colour scheme of your room.
There's also a wide selection of fabric styles, tested and approved by Silent Gliss. The weave and textures are specially selected because they hold the wave shape throughout the drop of the curtain. Some fabrics from alternative manufacturers may not hang and dress well when made into Wave curtains; Silent Gliss will only make Wave curtains in the selected fabrics from their range to ensure the best possible result. The two Colorama ranges give you an excellent finished curtain, large colour palette to select from and are available in two different translucent qualities.
The Colorama fabric range has been designed to provide the ultimate Wave. The structure of the fabric means your curtains will have a soft, uniform look and your curtains can be made without seams. Colorama 1 is a sheer fabric which is ideal as a voile/net curtain. Colorama 2 is a slightly thicker fabric, which can be made as a lined or unlined curtain depending upon your requirements. Other fabrics are available including blackout fabrics to block out light. If you're interested, please use the Enquiry Form to obtain further information and advice.
---
Please note: Every reasonable care has been taken to accurately represent product colours, however slight variations may occur due to different screen settings, shading differences between batches, and the nature of the photographic process. Colour samples may be available on request.
Pricing Guide
We've created a table to provide an estimate of Wave curtain prices at a glance. Find out how much your Wave curtains will cost below, depending on your width and drop requirements:
Colorama 1
Width >

150cm
200cm
250cm
300cm
350cm
400cm
450cm
500cm
< Width
Drop:
Drop:
Up to
300cm
£401.11
£534.81
£668.52
£802.21
£935.93
£1,069.62
£1,203.32
£,1337.03
Up to
300cm
301 to
350cm
£601.00
£802.21
£1,003.43
£1,204.64
£1,405.86
1,607.08
£1,808.29
£2,009.51
301 to
350cm
351 to
400cm
£691.02
£922.69
£1,154.34
£1,386.01
£1,617.67
£1,849.33
£2,080.99
£2,312.66
351 to
400cm
Colorama 2
Width >

150cm
200cm
250cm
300cm
350cm
400cm
450cm
500cm
< Width
Drop:
Drop:
Up to
300cm
£550.69
£733.38
£916.06
£1,098.74
£1,281.43
£1,464.11
£1,646.80
£1,829.47
Up to
300cm
301 to
350cm
£826.04
£1,100.08
£1,374.10
£1,648.12
£1,922.14
£2,196.17
£2,470.19
£2,744.22
301 to
350cm
351 to
400cm
£950.48
£1,265.54
£1,580.60
£1895.66
£2,210.72
£2,525.78
£2,840.84
£3,155.90
351 to
400cm
To obtain further information and a detailed quote for your made to measure Wave curtains, submit the enquiry form below and a member of our friendly team will get in touch.