Curtain Poles & Tracks Buying Guide
Curtain poles and tracks both offer unique benefits when hanging your curtains. In this handy guide, we've put together all of the questions you may have about curtain drapery.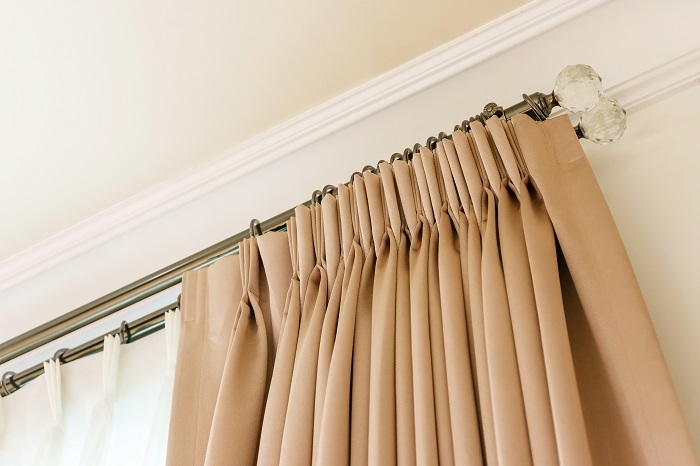 Curtain Poles vs. Curtain Tracks
Should I choose a pole or a track?
Curtain poles offer multiple hanging options, with the choice of rings and gliders, and the ability to fit eyelet curtains. In comparison, curtain tracks are minimal, practical and bend at a tighter radius. They are suitable for all types of headings, excluding tab and eyelet fit. If you're looking for an alternative to eyelets, Wave is a great option.
While curtain tracks offer a discrete look, curtain poles can be accessorised to make a statement. Our curtain poles come in a range of stylish colours, and you can choose from a matching range of finials, midials and holdbacks. They are also available in a variety of diameters to create either a bold or minimalist appearance.
Tracks are suitable for any type of fixing, whereas poles with rings are generally not appropriate for top fixing. Eyelets aren't the best option for bay windows unless you opt for multiple curtains, as the eyelets can't pass the brackets. The majority of curtain tracks tend to run smoother than poles due to their roller gliders. The exception is our metro pole, which is practical and can be flush fixed.
What do I need to set up my track or pole?
If you purchase a curtain pole with rings, we recommend using ten rings per metre. Bay windows with a custom bent pole require C-rings and passing brackets to enable smooth drawing.
If you'd like a pole with gliders, select a glider type when you purchase your pole. The glider poles are only suitable for curtains with hooks. All of our tracks and our metro pole come with 10 gliders per metre included and one bracket for every 60 cm.
Once you have all the parts needed to hold your curtains, you need brackets to fix your pole or track into place. There are many types of brackets, so check our glossary to find out the function of each type.
Types of Poles and Tracks
Which type of curtain pole would be best for me?
Curtains can be fixed to a curtain pole using rings and gliders, or around the pole with eyelets.
Poles with rings are a traditional way to hang curtains and require manual opening. They can be trickier to draw as the rings run across the pole, but you can attach draw rods to help.
Poles with gliders offer smoother operation and can either be uncorded (hand drawn) or corded for ease of use. Both options are ideal for drawing heavier curtains thanks to their smooth movement. For ultimate simplicity, electric models can be operated by remote, switch, radio or timer.
Are corded or uncorded poles and tracks better?
Corded poles and tracks are easily operated with a pull-cord, meaning you won't have to handle the curtain. This means they are ideal for hanging delicate fabrics and heavier curtains. Uncorded designs keep the focus on the curtains, offering a more modern style.
What are the advantages of electric models?
Electric poles and tracks are either operated by remote, switch, radio or timer. Electric poles are great for drawing attention to the pole design, while electric tracks keep the focus on your curtains.
They make drawing your curtains easier than ever and can be controlled right from your sofa. Models with timers and light sensors can even open and close automatically, ideal if you are away from home.
Electric models add a sense of luxury to your home and make life easier. If you have tall windows or heavy curtains, you won't have to pull the curtains by hand. As you won't need to handle the fabric, it will suffer less wear and tear.
Size and Fit
How can I get the correct length of pole or track?
You'll need to measure your window using a metal tape, following our measuring and ordering guide. The method required depends on the shape of your window, and bay windows require a number of measurements.
You should allow around 15 – 30cm either side of the window for straight windows that aren't in a recess. Also, bear in mind that finials will add to the overall pole length.
Which diameter curtain pole should I choose?
Select a diameter based on how prominent you would like the pole to be. Larger diameters complement tall windows, while more delicate fabrics often suit smaller diameters. If you use eyelet curtains, choose a diameter to fit into the eyelets. It's worth noting that pole diameter does not dictate strength.
What options are available for bay windows?
Provide measurements of your bay window when you purchase a suitable pole or track, and we can bend it to fit. Choose from a range of high-quality aluminium curtain tracks or if you prefer poles, take a look at the Bradbury design. All of our poles can be bent for bay windows, which makes them very strong and suitable for heavy curtains. Please note, your outer wall will need to be thick enough to withstand the fitting process.
If you choose a curtain pole, you'll need passing brackets and C-rings for the curtains to pass along the window smoothly.
What if I have two sets of curtains to hang?
Layering up curtains adds a stylish look to a room and is easy to achieve with a double curtain track system. This is a track that has two channels to hang two layers of curtains.
Style and Finish
Which material should I choose for a curtain pole or track?
We stock high-quality aluminium tracks that can be easily bent and cut to size. These are more durable than plastic alternatives, making them a reliable option.
Curtain poles are more customisable and are available in a range of materials and finishes. Wooden poles provide a rustic look, perfect for more traditional homes. Lacquered designs like the Chiltern range have a more modern style and are crafted from high-quality wood.
Metal poles flatter any interior style and come in a range of finishes. Our Bradbury pole can even be bent to suit bay windows, saving you from connecting multiple poles.
What accessories can I buy for my curtain pole?
You can dress your curtain pole with matching finials, midials and holdbacks. These complete the look of your pole and create a style statement in your room. If you prefer a more understated look, you can fix end caps to the ends of your pole as an alternative to finials.
Browse our large range of high-quality poles and tracks, or get in touch to specify your requirements.